25 €
BABY SKI
From the age of 2 years and up to 27 kg max, children can enjoy the joys of water sports. Equipped with equipment specific to their size, we guarantee immediate pleasure in complete safety.

7/7 - 7am to 9pm
From April to October
100% Success
Easy
Vest
From 2 years old
Book online
This activity allows your children from the age of 2 years and a half to discover the sensations of sliding in a playful and safe way!
With the help of specialized equipment: boat with low motorization, initiation bar, adapted pair of skis and rope/pulley system, our qualified instructors will be able to accompany them and maintain them in all their movements. Thus, they are directly stabilized and can very quickly discover their first sliding sensations!
| | 1H | 2H | 3H |
| --- | --- | --- | --- |
| 11 PERSONS BOAT CENTURION Ri237 (Wakesurf / Wakeboard) | 196€ | 380€ | 564€ |
| 7 PERS NAUTIQUE 216 (ONLY Wakeboard / Waterski/ NO WAKESURF) | 172€ | 336€ | 480€ |
| 7 PERS AXIS (Wakeboard / Waterski/ Wakesurf) | 196€ | 380€ | 564€ |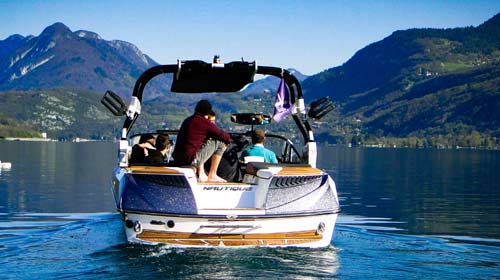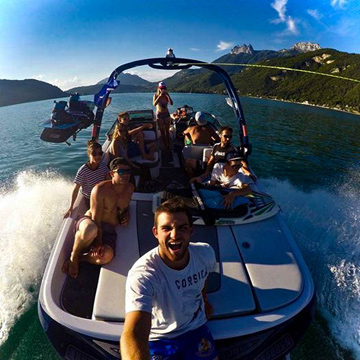 groups
from 7 to 80 people
Price on estimate
Works councils
Schoolchildren
Tour operators
Adults & Children